US ORDERS
Amazon.com Hot 100
Gift Ideas

BOOKS
Featured in the Media
Audiobooks
Eating disorders
Obesity in Children
Cooking Food Wine
Medical & Health
Science & Nature
Health, Mind & Body
Stephen Barrett
Quackery
Skin Cancer
Dermatology


© 2004 HealthWatcher.net
Dietfraud.com
Dr. Terry Polevoy
Waterloo, Ontario Canada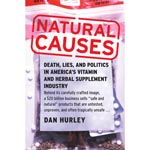 Natural Causes:
Death, Lies and Politics
in America's Vitamin and
Herbal Supplement Industry
by Dan Hurley

In his lively debut, health and medical journalist Hurley takes aim at the $21 billion supplement industry and its potentially injurious "natural" products. Hurley maintains that the Dietary Supplement Health and Education Act of 1994 is one of the worst laws on the books. Shielding vitamins and herbal concoctions from FDA testing, it requires only that no curative claims be made for such "dietary supplements." If you think that "herbal" weight loss products are all safe, think again. Hurley targets the scam artists who sold billions of dollars of adulterated pills to make a buck, and left many people dead or permanently ill for the rest of their lives. The Chinese herbal products for weight-loss are especially dangerous.
Dietfraud in Action...

With more diet scams coming out every day, it's hard to keep track of them all. Here's the latest source of information about all the things people have tried to pull on consumers over the years.

Patch Scams

Patches have always been a huge source of income, yet more often than not, only endanger the users health. Here's your most recent source on the scams you've seen in the headlines.

One of the most dangerous diet scams of all has been seen in supplement form, where the so-called "diet drugs" have actually caused more damage than anything.

Cases Against

We're out there, fighting for your health against companies that must think consumers to be stupid. Want to help out the cause? Have a look here for all the up-to-date information.

Cellasene has caused so many problems over the past few years, that we thought it deserved a section of its own. If you've ever been hurt by this dangerous drug, look here to hear more horror stories about a drug that wasn't all it lived up to be.




The PhytoPharma people from Canada have scammed people for years. The latest scam is called 16 Plant Macerat, a liquid vial of snake-oil, designed to take millions a month to some offshore bank account. There are some serious question about whether this money was used to fund illegal activities.