US ORDERS
Amazon.com Hot 100

BOOKS
Featured in the Media
Audiobooks
Eating disorders
Obesity in Children
Cooking Food Wine
Medical & Health
Science & Nature
Health, Mind & Body
Stephen Barrett
Quackery
Skin Cancer
Dermatology







© 2008 HealthWatcher.net
Dietfraud.com
Dr. Terry Polevoy
Waterloo, Ontario Canada
The work that we do at Dietfraud.com is not supported by drug companies or government agencies. We are entirely funded by your kind support. So if you find this site valuable, please click on one of the links below, or order something that you need from one of our sponsored links.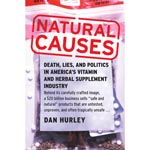 Natural Causes:
Death, Lies and Politics
in America's Vitamin and
Herbal Supplement Industry
by Dan Hurley

In his lively debut, health and medical journalist Hurley takes aim at the $21 billion supplement industry and its potentially injurious "natural" products. Hurley maintains that the Dietary Supplement Health and Education Act of 1994 is one of the worst laws on the books. Shielding vitamins and herbal concoctions from FDA testing, it requires only that no curative claims be made for such "dietary supplements." If you think that "herbal" weight loss products are all safe, think again. Hurley targets the scam artists who sold billions of dollars of adulterated pills to make a buck, and left many people dead or permanently ill for the rest of their lives. The Chinese herbal products for weight-loss are especially dangerous.
Terry Polevoy
DietFraud.com
---
Report Diet Scams and Ripoffs
Have you been been ripped off by diet scams?
If so, contact DietFraud.com and we'd be happy to help you organize your complaint to the appropriate agency.
You can file complaints yourself with:
---
Search the U.S. FTC for diet fraud.
---
For instance the U.S. FTC has prosecuted diet patch scams for over two decades. They have now resurfaced with titles like Hoodia Patch and they are being advertised on publicly owned bus shelters and major malls across Canada. A recent FTC search pulled up over 100 entries on their web site alone for diet patches.
Many of the diet patch scam artists have involved Canadian companies hiding out in private mailboxes. It seems that nothing has changed here in Canada, eh?
---
Warning!!!
Your money may be funding terrorists
Diet scams could be part of an international terrorist organization. If your credit card has been billed for products like Algoxyll, Plant Macerat, or Befosan, there's a good chance that your credit card statement was billed to Geneva Bioscience Ltd. Isle Of Man Gb. Just look at your credit card, and if you notice this company, or any other foreign transactions that you can't explain, please let us know. Just click on the file complaints section, and let us know what happened
Senior Citizens Beware
Canadian mailbox drops
Diet scams from Canada including Algoxyll and their associated companies are now taking aim at older women and men. Their pattern of advertising to seniors is pretty similar to what Glen Braswell does. He goes after senior citizens. Algoxyll is now being advertised in 2 page ads in places like Quilt Magazine, weaving magazines, and more. So, if you see any of these scams in your magazine, please let us know.
Boycott all Canadian mailorder companies until the U.S. and Canadian governments clean up their act. What are these government employees afraid of? Don't they want to help their citizens?

When Glenn Braswell, who died in 2006 was still alive, he was in charge of Gero Vita. This huge money-making empire used a Mail Box Etc. location on Yonge Street in Toronto. During U.S. Senate hearings about diet and supplement scams on September 10, 2001, he and his editor took the Fifth Amendmant and refused to answer a single question. If you don't remember who he is, just follow the links below to the stories about his Presidential pardon in 2001, and don't forget to check the links between his company and Quebecor.


For a look at what this formerly convicted felon's company has done since his release from prison 18 years ago, why not visit our special section on
Gero Vita Scams from Toronto Mailbox drop - He recently pled guilty to income tax evasion in Federal Court in California. (March 2, 2004)
4936 Yonge Street - Home of more than just diet scams.


ONTSCAN.COM - sells smart card readers out of this location. If you don't know what they do, then you really need to smarten up. These people only work from the MBE location, and don't have a retail store. How convenient is that? I wonder who really owns the non-store? Well here's a hint from their contact page:

"Make it out to "cash" or "Ron Katz" These discount are possible because you do not pay the credit card charges and your package is shipped via air mail. We often use registered air mail to provide some type of tracking information."
Send us your catalog and ads for diet advertisements or magazine supplements, etc. Please save the envelope it came in. Tell us when you received it, and what you actually got, if you were satisfied, and if you got a refund if you sent it back. Also, tell us where you received the product from, and where you returned it. Remember when you send us mail, please remember to put on enough postage to reach Canada. Send your stuff to:

Terry Polevoy, MD
DietFraud.com
65 University Ave. East, Unit 10A
Waterloo, ON  N2J 2V9

DietFraud.com's Hot Topics

Asian Svelteness Tea - Another MBE based operation

Lose 54 Pounds and drop 6 dress sizes
It's deja vu all over again folks. Not only is the Genesis Health Institute not a real institute, but these folks claim to have discovered a famous 2,000 year old herbal product that will do everything except windows. Plus they claim that a university hospital in Beijing published the results of a study in a highly respected British medical journal on nutrition, but failed to identify the name ofthe journal. You don't have to do a thing, and it's permanent. They also don't know how to spell. So if you want to see something amazing happen, just try to get your money back, after you fail to lose the guaranteed weight!




Slim-Within - Canada fails to shut down another Montreal based scam

Valassis Shop & Save spreads false hope to millions
It wasn't bad enough that these scammers used MBE in Montreal area to ply their trade last May with SLIMMAX. They have resurfaced with yet another scam. Get this, they use the same bloody mail box in Quebec.

These idiots again violate the cardinal rule of scam artists, THEY DON'T HAVE A PHONE, AND THEY DON'T ACCEPT CREDIT CARDS. DUH DUH DUH. HOW STUPID CAN PEOPLE BE.




FTC shuts down Canadian scammers, freezes assets

Bio Lab, maker of Cellu-Fight, Quick Slim - International scammers use Mail Boxers Etc. locations in Toronto, Montreal, Plattsburgh and Lake Placid, NY.
Finally, some good news. The long arm of the U.S.'s FTC slammed a Canadian based diet fraud operation. It's Bio-Lab, based in Quebec. The bad news is that these folks have operated out of two Mail Boxes Etc. two locations in upstate New York, and several other locations in Ontario and Quebec and have not been shut down in Canada.

So, don't expect Health Canada to come to your rescue if you've been scammed. Canada's Competition Bureau was given credit for helping the FTC, so why doesn't the Canadian government put leg irons on these folks on this side of the border? Until the body bags start piling up, they won't do a thing about consumer ripoffs like this. So, don't buy this junk. It's as simple as that.




So, what took them so long? Some of your favorites are in this group. noni juice, shark cartilage, MSM, St. John's Wort, Carnitine, Glucosamine, 5-HTP, etc. Whether or not this will send a warning to all the big-name players will depend if the FDA has to call in the Attorney Generals in the States where these folks live.


TriKlenz scam from Quebec

Hot Spots and Actions

PhytoPharma and Plant Macerat exposed on
W-FIVE CTV's Special - Terry Polevoy, and Ron Reinhold guided CTV through a web of deceptive practices on this award winning Canadian program.

Odds'n'Ends
Have you Been Ripped Off?

PLAINTIFFS WANTED


We are seeking plaintiffs for class action lawsuit against major weight loss product companies, and are collecting information to assist the courts to file charges against the distributors and clubs that promote use of illegal rave drugs. Please send us the information and we will get back to you.



Plaintiffs Wanted



If you feel you have suffered from any of the products below, a national documentary film producer wants to hear from you. If you want to share your story with millions of people who are potential victims of these diet products, and devices, please help. Please specify which product you are complaining about in the subject field.

Body Solutions
Algoxyll
Plant Macerat
BIO-MINCE
Herbal products
Malibu Weekend
Hollywood Turbo
Diet patches
Metabolife
Chitosan
Homeopathic GH
Ephedra

CONTACT US